Classic sailing yacht of 38 meters.
This classic yacht is based on classic sailing schooners from the 20s of the last century, this was the great era of the legendary sailors.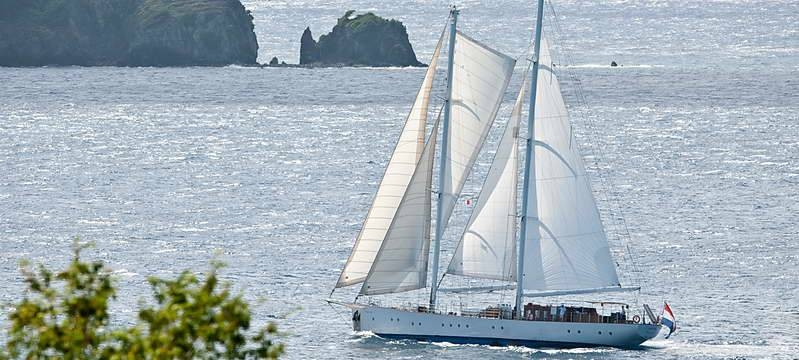 Yachts with unparalleled elegance and beauty are built by well known designers such as William Fife in Scotland, Charles E. Nicholson from England or John Alden and Nathanael Herreshoff from the US
It is a two-mast schooner with sail area 556 sqm, hull length 38 m, width 8.20 m, depth 3.80 m, weight 160, Engine MAN 400 HP.
A large teak deck with lots of room for sunbathing and eating possibilities at the back for 20 guests under a large sunroof.
Furthermore, a deckhouse with steering wheel and small bar. On the side is a ladder for swimming and disembark. Also, two ribs to visit the shore.

Layout classic sailing yacht
10 Double Cabins for up to 20 guests (max. 9 double cabins for max. 18 guests are rented)
Kitchen: Early Bird Breakfast, breakfast, lunch, afternoon coffee / tea and cake, dinner. Once a week there is a Captains dinner.
Downstairs there is a large area for dining possibilities and meetings (over 20 people). Board library, games, radio, CD, DVD, plasma TV, whiteboard.
Program
This classic yacht sails early November 2016 from Gibraltar to the Cape Verde Islands and is then sailing around the Caribbean until the end of April 2017.
From May 2017 it will be back in the Mediterranean to visit Sicily, the Amalfi Coast of Italy, Croatia and Corfu.
Click here for dates and prices 2018

Click here for dates and prices 2019
Cabin charter for singles, couples, friends, anyone who likes to sail on a classic yacht and wants to enjoy the service of a cruise and comfort.
We offer the following cabin charter holidays:
Sailing trips in the Mediterranean or Caribbean, combination sailing, shore excursions, swimming and relaxing.
Theme holidays, a specialist tour guide on board for information and excursions.
Sailing and Family, special family trips during the holidays with custom family prices.
Pure sailing, crossings for the real sailor.
You can also rent the entire ship, for businesses, families and friends, individual program on request.
Request a free quote