Flotilla sailing in Pula Croatia
Pula flotilla

8 days: every saturday from 13 july till 10 august

15 days: from 13 july till 3 august


If Croatia is the heart of Europe, than the heart-shaped Istria opens the gates of the Mediterranean to Europe.
The peninsula of Istria, located in the western part of Croatia, has always been a very special area. It is without doubt the most important tourist region of Croatia. Its very unique qualities are the result of the location where the Mediterranean cuts deep in continental Europe.

Islands, coast and mountains
The peninsula Istria and bay of Kvarner form the end of a deep inlet of the Mediterranean. The coastline, islands and mountains are three different natural regions in a relatively small area, which Kvarner and Istria make unique and versatile. The small ports are often beautifully situated and generally have excellent facilities.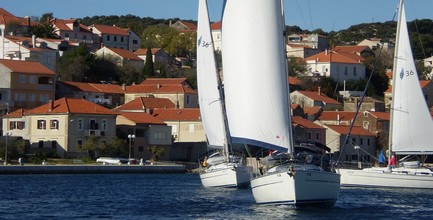 Large and small islands
The Kvarner Gulf or bay is situated in south-east Istria. Here you will find the larger islands Cres, Krk, Pag, Rab and Losinj. On the west coast of Istria in Pula are lot of small uninhabited islands scattered between Rovinj and Porec. The small tourist towns are definitely worth it.


Flotilla sailing Croatia from Pula every saturday from 12 July - 9 August.
Route of the Pula flotilla
Sailing between the islands in the Kvarner bay, visit old towns and small villages and is easily accessible by car! In this area lie the green islands of Krk, Cres, Losinj and Rab. The smell of trees and herbs will meet you all at sea. In the old towns of Cres, Rab and Losinj you can see the Italian influence in the Venetian style. The small ports are nicely located and often have excellent facilities and opportunities to go out.

The Arena in Pula
In the centre of this area you will find Pula. The town owes its fame on the amphitheatre or arena which was built in the first century. With its elliptical shape, size 132 x 105 meters and 32 meters high, the Arena is the largest ancient structure in Istria and is one of the six largest Roman amphitheatres in the world. The Arena was used for gladiator fights and could accommodate about 20,000 spectators. Nowadays this is a perfect place for rock concerts, operas, ballets and film festivals on warm summer evenings.

The Kvarner Gulf
The diversity and richness of the flora and fauna are well known and recognized in Kvarner. On the island of Krk are recorded around 1,500 plant species. The flora of the islands of Cres and Losinj is almost as rich. From far away you can smell the pine forests with special scents of pine cones, scents of sage, rosemary, basil and myrtle. In the small ports on the islands you can find delicacies made from chestnuts, figs, olives, berries and many kinds of special edible mushrooms.

A special wildlife world
On the island of Cres lives the protected griffon vulture, one of the four European species of vulture. The brown bear is found in the forests of Gorski Kotar, the Mediterranean seal is a marine attraction and Kvarner scampi is a famous gastronomic delicacy of the region. As part of a dolphin-protection program enables you to 'adopt' dolphins that live around the islands of Cres and Losinj.

Please note that in order to sail in Croatia it is a requirement that your skipper has a qualification equivalently to an RYA Day Skipper or higher. You will need to take the original of your sailing qualification with you and will not be allowed to sail without this.

Contact us and we will send you a free quotation on flotilla sailing in Croatia. You can also call 0031 6 20553904. Contact us if you have questions about flotilla sailing in Croatia. We sailed six years in Turkey where we lead the flotilla with pleasure. Starting summer 2011 we accompany the flotilla from Sardinia, Portisco. Where else can I join a flotilla sailing?

Flotilla in Turkey, from Gocek / Fethiye and Bodrum
Flotilla in Greece, from Preveza in the Lefkas area, Lefkas, Athens, Corfu, Zakinthos, Paxos or Peleponnesos
Flotilla in Croatia, from Pula, Zadar, Sibenik - Sukosan, and slightly south Pirovac
Flotilla sailing in Italy, from Portisco Sardinia
Flotilla in Spain, from Mallorca
Flotilla sailing in France, discover Corse starting from Portisco Sardinia
Request a free quote